COOKIEBOX CLOUD PP
Privacy Policy as a Service
innovative | intelligent | individual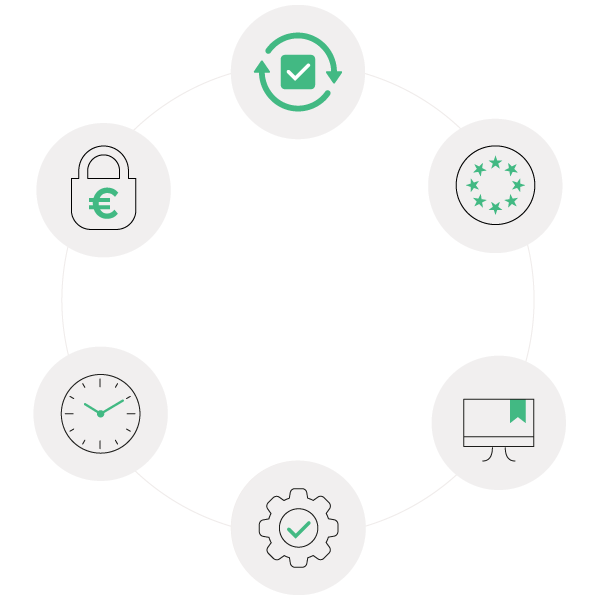 The Cloud PP from COOKIEBOX GmbH is an intelligent data protection declaration that updates itself automatically and keeps you out of trouble: 100% GDRP-compliant, 100% warning cost protection
Your benefits in a nutshell
DATA PROTECTION WITH WARNING PROTECTION

Our data protection experts will take care of the correctness of your Privacy Policy in terms of content and form - including protection against warning costs. This includes the individual adaptation of the content after a deep dive audit of your entire website and the hosting on a GDPR-compliant server.

10+ LANGUAGES & BARRIER-FREE ACCESSIBILITY

We translate your privacy policy into more than 10 different languages: German, English, Dutch, Russian etc. and also ensure barrier-free access.

EASY INTEGRATION

The CLOUD-PP can be easily integrated into the website via JavaScript and is compatible with all CMS and shop systems.
AUTOMATIC UPDATES

Once the Cloud PP is installed, we will maintain your Privacy Policy and keep it up to date. If legal or data protection regulations change, we update it – without your intervention, automatically and remotely.

 

Monitoring included

Our monitoring checks at regular intervals by means of a scan of your website whether services or technologies requiring information have been added to it. If this is the case, we will take care of adjusting the content of your privacy policy. So you do not have to do anything more.
Our automatic privacy policy: 100% GDPR compliant, 100% warning cost protection
The privacy policy for small businesses
Dynamic privacy policy – always up-to-date

including weekly monitoring

up to 10.000 sessions per month
Compliance Standard Bundle
Our most popular bundle including the Cookiebox Cloud PP (privacy policy) and the Cookiebox CMP (cookie banner) 100% data protection compliant including monitoring and warning cost protection.
Cloud PP | CMP | Monitoring
*Invoicing takes place annually
Our automatic privacy policy: 100% GDPR compliant, 100% warning cost protection
Compliance Business Bundle
Our most popular bundle including the Cookiebox Cloud PP (privacy policy) and the Cookiebox CMP (cookie banner) 100% data protection compliant including monitoring and warning cost protection.
Cloud PP | CMP | Monitoring - each in the business version
*Accounting takes place annually
Our automatic privacy policy: 100% GDPR compliant, 100% warning cost protection
Individual solutions for your company
Full Compliance Enterprise Bundle
Our All-In Bundle for business customers: 100% data protection including protection against warning costs and weekly monitoring.
Cloud PP | CMP | Monitoring - each in your Enterprise version
*Accounting takes place annually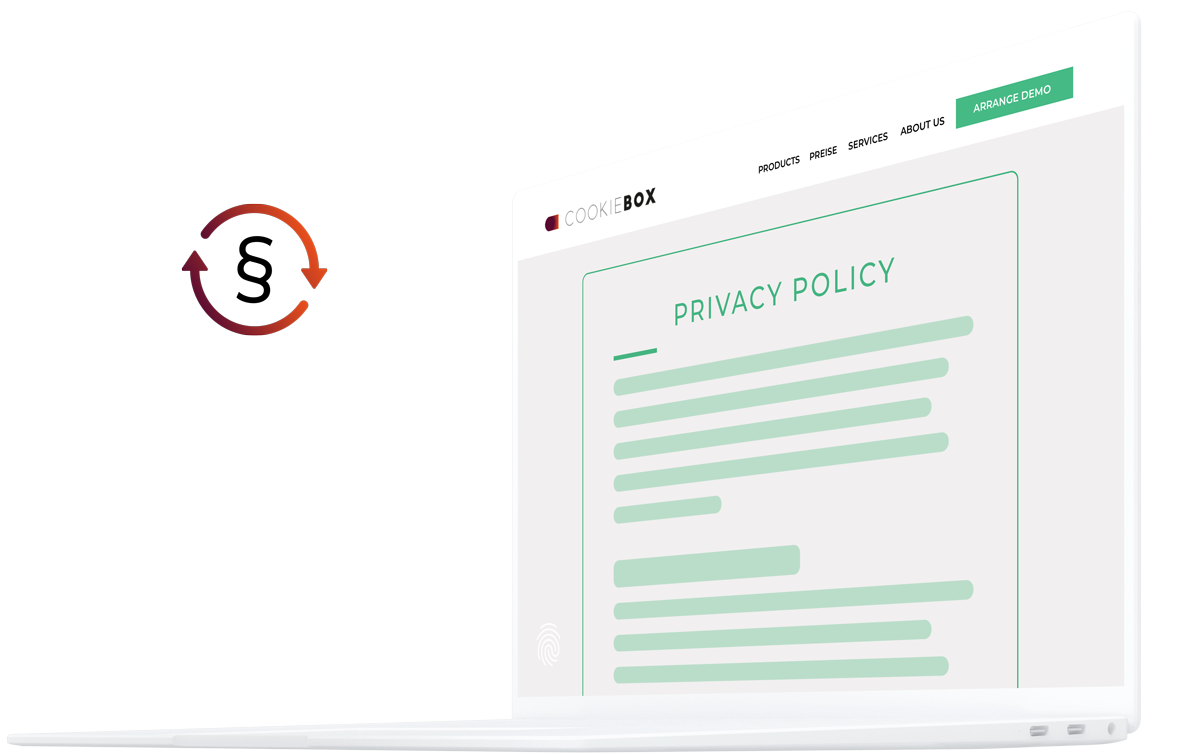 EVERY WEBSITE NEEDS A PRIVACY POLICY
The privacy policy must inform the user about which personal data is collected, stored and possibly passed on – regardless of whether you run a small private blog, the homepage of a sports club, a company website or an online store.
If the data protection declaration is not correct or incomplete, there is a risk of consequences. Violations of effective GDPR regulations are considered to be competition violations and are subject to heavy fines.
This is what your hosted privacy policy may look like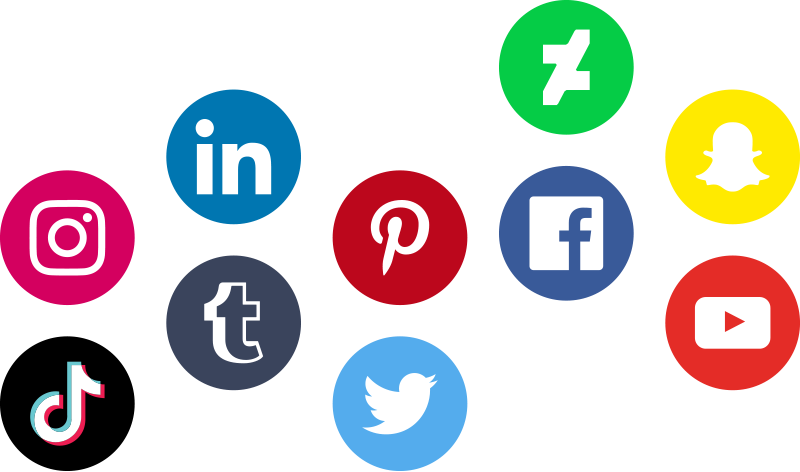 YOUR COMPANY USES SOCIAL MEDIA?
THEN YOU SHOULD KNOW THE FOLLOWING:
A social media presence is now part of every company. It is almost more important than the own website, because the reach via social media is enormously high. The social media platforms are becoming more and more and the possibilities of marketing are virtually infinite. In addition to Facebook, Instagram, Twitter and YouTube other platforms like Xing, LinedIn, Tumblr, Pinterest, Snapchat or TikTok are registering more and more users and thus more company profiles that use these platforms for advertising purposes.
Contrary to what most people think, it is not enough to mention the use of social media in the privacy policy of your own website. What most companies don't know is that they need a separate privacy statement for each social medium and the reference to your imprint. And because that is a lot of work, there is us. We save you time, work, nerves and legal fees. We take care of the privacy policies for your social media and create the necessary joint controller.
COOKIEBOX Monitoring included:

HOW DOES it WORK?
The scan service checks your domain(s) for GDPR-relevant changes – automatically, regularly, checked by the data protection officer.

FREQUENTLY ASKED QUESTIONS ABOUT THE PRIVACY POLICY
The data protection declaration must be easily found on every page of your website after a maximum of two mouse clicks and may not be hidden in terms and conditions, imprint or other texts/menu items. It is recommended that a link with the designation "Privacy Policy" or "Privacy Statement" be included in the header, footer or sidebar of the website. Usually it is placed close to the link to the imprint.
The prices include the use of the software and hosting of technical support cases. In addition, an individual consultation and set-up service can be booked.
Yes, our privacy policy is compatible with all content management systems (CMS) as it is simply integrated into your website via a Javascript snippet.
Under the following link you can contact us with your technical questions. Our support team will get back to you immediately.
Yes and No. It depends on your website. With the Cookiebox Cloud PP you fulfil the obligatory information obligations for the operation of your website, which result from Art. 13 GDPR. The GDPR contains comprehensive guidelines for the basic handling of personal data; in order to be fully web-compliant, it is necessary to integrate a Consent-Management-Platform (CMP) on the website in addition to the Privacy Policy – if personal data is collected (e.g. through the use of cookies). These two (PP+CMP) must be coordinated with each other. The COOKIEBOX offers package prices with which you can buy both products together.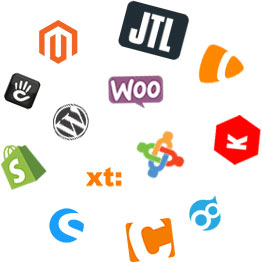 COMPATIBLE WITH ALL CMS AND STORE SYSTEMS
Our privacy policy is simply integrated into your website via a short Javascript snippet. The whole thing takes only a few minutes and can be done without programming skills or a plugin.